Key Information about Class Four
Your Teachers are Miss Attride (Monday-Wednesday) and Mrs. Maitipe (Thursday-Friday). Mr Small and Mrs Benson will also be working with the class.
Swimming will be every Monday afternoon. Please ensure that your child has the correct swimming kit (swimming costume or swimming shorts, no earrings). Boys' and girls' hair must be tied back away from their faces, preferably with a swimming cap.
PE will be on a Thursday morning and will be taught by Mr Leach. Children will need a pair of trainers, blue or black shorts or trousers, and a plain white or plain house-coloured t-shirt.
Homework and spellings will be given out on a Thursday and due back in the following Thursday. Spellings are tested on a Thursday morning.
If you have any questions, please don't hesitate to ask!
Our topic this term is...
Amazing Monarchs!
We'll be studying six amazing monarchs who have helped to shape this country. We will learn:
about William the Conqueror's reign from 1066 onwards

how King John made himself a very unpopular monarch

why King Henry VIII married so many times

who Queen Anne was

what Queen Victoria acheived during her reign

the role of the Britixh Monarchy today.
There will be a home learning project this term which you can choose to be a presentation, powerpoint, poster or booklet on a monarch of your choice. More information to follow!
We are learning how to use a range of punctuation accurately. In particular, we have been practising using inverted commas/speech marks and commas to mark clauses in complex sentences. You only need a comma if the subordinate clause is at the beginning of the sentence.
e.g. 'Although it was raining, Tom went out for a walk.'
'Tom went out for a walk although it was raining.' does not need a comma as the main clause is first.
Test your recognition of compound and complex sentences with this game.
Grown ups: can't remember what a complex sentence is? Have a look here.
Our Marvellous Maths Learning
This week we are focusing on problems involving measures, including distance and time.
This interactive Carroll diagram will test your ability to identify lines of symmetry.
We have learning about the properties of quadrilaterals this term. Here are some of the trickier ones to remember:
This webpage is also full of helpful information.
We have also learned how to identify different types of triangle. Here's a quick reminder:
Test your knowledge with this game. Class 4 should be able to identify scalene, obtuse and equilateral triangles.
In Class 4 it is important to be able to recall your times table facts quickly. We will practise them in school but you should also be practising at home at least twice a week. You can practice specific times tables here at www.timestables.co.uk. Adults - if you are looking for advice or ideas for supporting your child to learn their times tables please visit www.oxfordowl.co.uk/for-home/advice-for-parents/help-with-times-tables/.
At the end of term there will be an opportunity to try for a Maths Olympics Award (see Ms Barnham for details) so keep practising!
This term we have explored electrical conductors and insulators. Class 4 created test circuits to enable them to find out which common materials conduct electricity.
Visit the Switched On Kids website to learn about electical safety.
We've also been exploring sources of energy, such as wind, hydro- and solar power. If you discover any interesting facts about generating electrical power let me via the comments at the bottom of this page.
Computing
Thursday of Anti-Bullying week was National 'Stop, Speak, Support' Day. Check out the 'Stop, Speak, Support' initiative here (parents and carers - this is also applicable to older children and teens).
We are focusing on E-Safety this term. Try this quiz to test your online safety knowledge.
This game also looks at how to stay safe online.
Class 4 Homework Thursday 6.11.18
This homework, all about inverted commas, is due back into school on or before Thursday 13th December.
Remember: homework tasks should take 30-40 minutes to complete. If it is taking you any longer, you do not need to finish it and please let us know.
Homework and spellings are given out on a Thursday and due in the following Thursday.
Spellings are tested on a Thursday morning.
Here are the spellings for Term 2.
Individual children may also have an additional, personalised spelling to learn.
To practice spelling words with the 'shun' suffixes (-tion, -sion, -ssion, cian) try this game and wordsearch.
Class 4 Spelling Test on Thursday 20th December
You will be tested on a selection of ten spellings draw from across the term, and identified as "tricky spellings" by the children. If you have a personalised spelling list, you will be tested on all of your additional words.
No challenge word this week.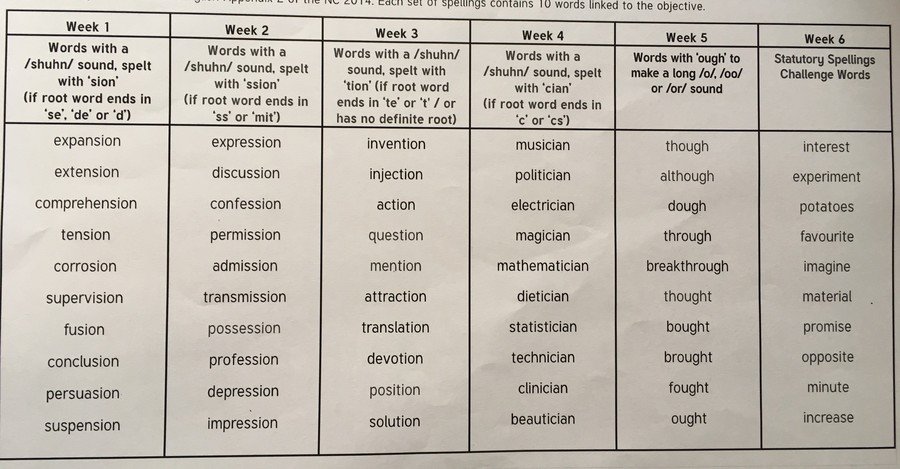 Links to other learning activities
What do you think?
Comments (52)
Show Comments
Tunde
(less than a week ago)
I agree with Phoebe the Band Runer game is so good
Tunde
(less than a week ago)
Hi teachers,on class 4s website i can not find the spelling test thingy, did you take it down?
Jake
(about a week ago)
I love history
Tünde
(about a week ago)
Hi teachers, can you put up some new maths games or any other learning games(just telling, I LOVE class 4) (not lying)
BIRDIE
(less than a month ago)
I want to put more things on the website.(Mainly because they are so fun) PLEASE! PLEASE PLEASE PLEASE PLEASE please!
Tünde
(less than a month ago)
The our website is the bbbbeeeeeessssttttttt!!!!!!!!!!!
Tünde
(less than a month ago)
Please can we put more learning games on our website???????????(because they are so fun)
Tünde
(less than a month ago)
The safe computing games are really fun and you can really learn lots of interesting things about it!!!!!!!!
Ola
(less than a month ago)
On the school website it was fun and also the music was amazing and exciting too. Bye and also I love class 4
Tünde
(less than a month ago)
I love the games and the spellings in year 4!!!!!!!!!! (I also love the teachers)
Show More Comments